Products
Acai Berry Series
Bamboo Series
Black Tea Series
Chocolate Series
Cranberry Series
Ginger Series
Lemon Tree Series
Nutritif Series
White Musk Series
IODINE-BROMINE SALT
Dermocosmetics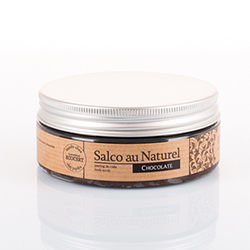 Chocolate Body Scrub
Available capacities: 200 g, 650 g
Smoothening, fine-grained salt scrub, created based on the iodine-bromine salt of Bochnia, of an exceptional, sensual aroma. It cleanses and refreshes the skin, exfoliates the stratum corneum, strengthens the connective tissue and elasticizes. An addition of 100% cocoa, rich in valuable bioelements, stimulates the endorphin production.
How it works:
Removes dead skin;
Cleanses, smoothens and refreshes the skin;
Strengthens the collective tissue;
Moisturizes, nourishes and elasticizes;
Regenerates and protects the skin;
Leaves a lipid film that increases elasticity;
Stimulates the endorphin production;
Improves the mood and relaxes.
Sodium Chloride, Prunus Amygdalus Dulcis, , Glycerin, Butyrospermum Parkii (Ecocert), Simmondsia Chinensis (Ecocert), Cera Alba, Theoborma Cacao (Cocoa) Seed Powder, Parfum.
Iodine-bromine salt of Bochnia
Sweet almond oil
Eco certified jojoba oil and shea butter
Bee wax
Cocoa chunks
Other products in the series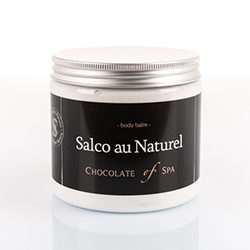 Chocolate Body Balm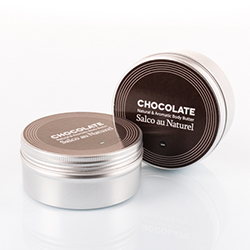 Chocolate Body Butter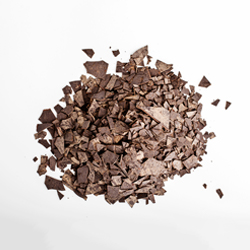 Chocolate Mask